What Content Marketers Can Learn from Bracket Busters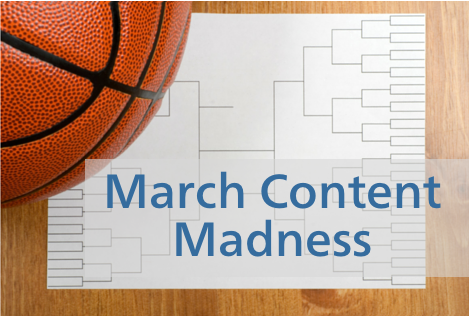 When Michigan State was bounced in the first round of the NCAA Tournament this year it busted brackets all over the nation. Almost 81 percent of projections put the Spartans in the Elite Eight, with many predicting they would win it all. So when Middle Tennessee, a 15th-seeded team upset them 90-81, it left even the best sports analysts speechless. So what does an off-chance blowout game have to do with content marketing?
Well, your content can often act the same way as this bracket busting match. As content marketers, we spend days trying to plan out the perfect content calendar. Using every tool at our disposal ranging from buyer personas to SEO performance metrics we work tirelessly until we feel we've crafted that perfect headline. However, much to our distress, this content doesn't always perform as expected. Sometimes it is the offbeat or tangential content that comes out of nowhere which excites people and rises to the top.
Scripted Content Bracket Busters
As a content marketing company, most of our content centers on marketing concepts and writing tips, but those pieces don't always perform as well as some of the out-of-the-box items. Strangely enough, our two highest performing pieces from the past few months are:
These titles have almost nothing to do with our core business (good writing is good writing, of course), but they drive a tremendous amount of traffic to our site. If you had asked me 3 months ago which blog topics would generate the most traffic, I would've confidently told you either of these pieces:
As relevant to our core business as these topics may be, they simply did not perform as well as some of our off-topic pieces.
Views vs. Conversions: Is Off-Topic Worth It?
While these seemingly off-topic posts drive a lot of traffic, they rarely compete with business-centric topics when it comes to conversions. Does that mean they don't offer value? Would it be a waste of money betting on Middle Tennesse? Of course not, try telling that to the guy who won $5,300 off a $265 bet on Middle Tennesse. These types of posts may have a lower seed in your brackets, but that doesn't mean they can't surprise you with results and stir up some excitement for your business.
Having more social content helps build brand awareness and draw in extra traffic. While this content may not finalize a sale immediately, it certainly helps with customer engagement. According to
Content Marketing Institute
, more socially aware media drives loyalty. Blogs about non-business topics also help put a face to your company. You are not a one-dimensional organization, and your content should reflect that. Understanding which blogs do drive traffic can help you narrow your focus, strategize for the future and adjust your content mix -- as long as you can identify the posts that have appeal.
It's All About the Analytics
Before you build your brackets and predict the Final Four, you need to take a long look at historical performance. Which pieces on your site have the highest page rank and the greatest number of views? If you don't know, it is time to start looking at your page analytics. You can't decide to promote a page solely based on your opinion. You need to know how it performs in the wild. Using Google Analytics gives you a good starting place, so you can see how your page stacks up in keyword use, views, conversions and more.
Building Better Brackets
When you have the data about current site performance, you can make better predictions about future performance. Of course, even with careful attention to analytics, some content will surprise you, after all, it's called March
Madness
for a reason. Continuously track changes to site performance so you can take advantage of bracket busters as they appear. The last thing you want to do is continue using a strategy to promote content that isn't delivering results.
Key Takeaways


Don't be afraid to experiment with niche and offbeat topics.




Conversions are important but so is the total audience.




The more data you have, the better you can strategize.


Sources:
http://knowledge.hubspot.com/articles/kcs_article/reports/what-is-the-difference-between-visitors-visits-and-page-views
http://knowledge.hubspot.com/page-performance-user-guide/quick-tour-of-page-performance
http://contentmarketinginstitute.com/2016/02/content-marketing-strategy-failing/