What CMI's 2015 B2B Benchmark Report Means for The Future of Content Marketing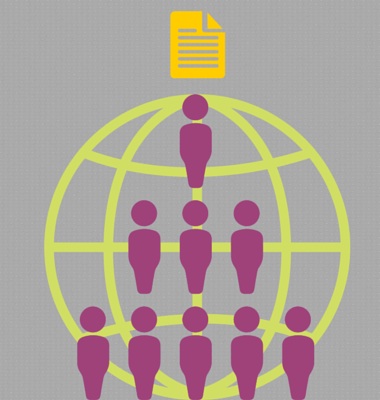 Seventy percent of marketers are creating more content than they did last year -- so what does this mean for the future of content marketing?
Content marketing
is reaching a pivotal point in time -- as more marketers focus on
content creation
, the competition becomes more fierce. Content consumers are being exposed to more content than ever before on the Internet making it more difficult for brands to stand out from all the noise; some in the space have referred to this trend as "
content shock
," suggesting that the content bubble is close to bursting. However, according to
Content Marketing Institute's 2015 B2B Benchmark Report
this hasn't prevented more marketers from creating and publishing content than previous years.
It's encouraging to see that content marketing is rising in popularity. Eighty-six percent of marketers surveyed by Content Marketing Institute said they use content marketing in their marketing efforts -- as defined as: "
A strategic marketing approach focused on creating and distributing valuable, relevant, and consistent content to attract and retain a clearly defined audience -- and, ultimately, to drive profitable customer action.
" This only validates the important of content in any marketing strategy.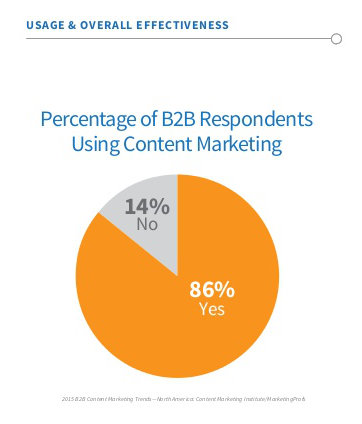 The fifth report released by CMI has shed light on various aspects of the industry, confirming suspected trends and challenges. But what exactly do these new findings mean for the
future of content marketing
? And what can we expect to see change and trend in the next 12 months? Below are a few predictions.
1. The Demand For Content Strategists Will Increase
More B2B brands will be on the hunt for smart and savvy content strategists in 2015. Why? Because strategizing continues to be a pain point for B2B marketers -- even when the data clearly indicates that having a documented strategy is a major key to success. Only 35 percent of B2B marketers surveyed claim to have a documented content marketing strategy while 48 percent claim to have a strategy, but say it's "not documented."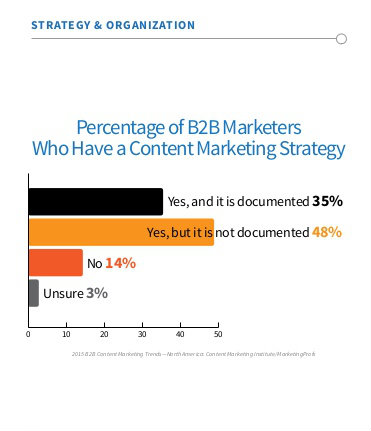 This is a concern because B2B marketers who have a documented strategy are "more effective and less challenged with every aspect of content marketing," according to the report. Looking to get your foot in the door in the content marketing space? Then make sure you have a plan about how you're going to document a concrete and effective strategy.
See also: 5 New Content Writing Roles Defined
2. LinkedIn Isn't a Trend or Fad -- It's a Marketer's Best Friend
Gone are the days of relying on Facebook for a spike in blog traffic or leads -- LinkedIn has now become a B2B marketer's best friend. According to the report, 94 percent or marketers use LinkedIn compared to the 51 percent of marketers who used it in 2010. The growth of LinkedIn usage has been positive and consistent, suggesting that it's an effective way to distribute content -- more so than Facebook and Twitter.
Sixty-three percent of the marketers surveyed also cited LinkedIn as their most "effective" social media platform -- Twitter and YouTube consecutively followed. Only 32 percent cited Facebook as an effective B2B social media platform.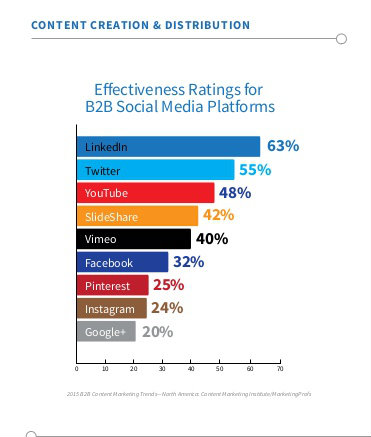 3. Brands Will Continue to Publish Content (At Least) Once a Week
When asked about publishing frequency, 60 percent of the marketers surveyed said they publish content on a weekly basis. Sixteen percent publish content on a daily basis, 26 percent said they publish "multiple times per week" while 17 percent said "weekly." This is a solid indicator that a consistent, weekly schedule will continue flourish -- whether that means constant updates to a company blog, or daily updates to social media channels.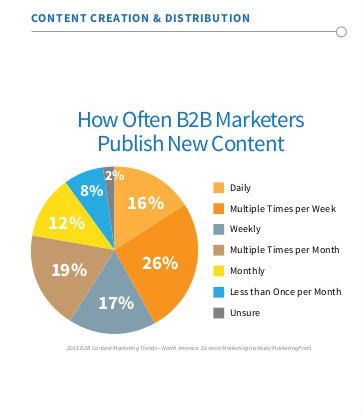 4. More Money Will Be Spent on Content Creation
It's never been more evident than now that
high-quality, original content
will drive the most success in a company's content marketing efforts. Fifty-four percent of the marketers surveyed claimed "producing engaging content" as their biggest marketing challenge, followed by "producing content consistently" and "measuring content effectiveness." It should be no surprise then that 69 percent of the marketers surveyed said "creating more engaging, higher-quality content" is a content challenge they're currently trying to solve. Why all the focus on quality and consistency? Because marketers know that's what will reap the biggest rewards.
See also: 5 Ways to Make Your Content More Original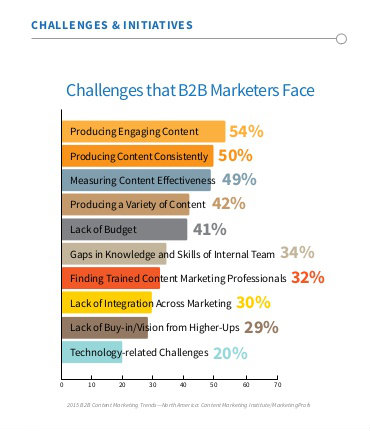 Additionally, the report states that over 50 percent of the B2B marketers surveyed plan on increasing their content marketing spend over the next 12 months -- it should be no question where this money will go given the top documented challenges.
5. Content Marketers Will Look at 'Conversion Rate' As a Key Success Metric
Despite the fact that only 21 percent of marketers admit to successfully tracking their content marketing ROI, there are three success metrics under the microscope: website traffic, sales lead quality and higher conversion rates. Interestingly though, "higher conversion rates" was new on the list this year -- ranking as the third most-looked at metric. This is very indicative of what will be important to content marketers in 2015.
See also: How to Measure Your Blog Content ROI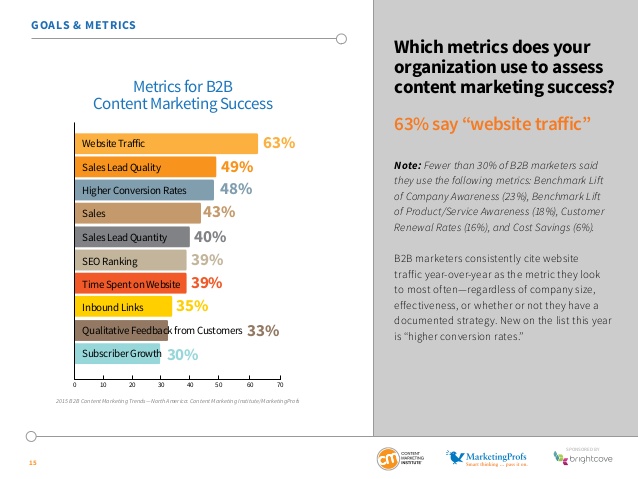 2015 is bound to be an eventful year in the content marketing space. While both content creation and measurement remain challenges in B2B content marketing, you can expect more movement towards solving these problems over the next 12 months.
What do you think content marketers can expect to see change in 2015? Share your thoughts with us in the comments section below. To Read More About Content Marketing See Below:
How to Write a Great Email Subject Lines
What is an Email Newsletter?
How to Use Email Marketing Effectively