What America's Founding Fathers Would Tell You About Content Marketing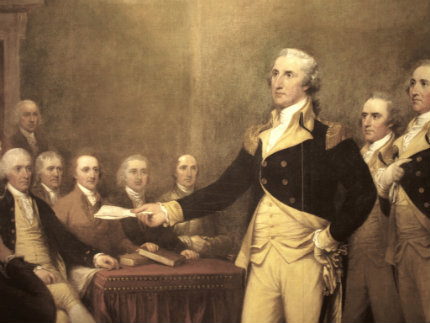 In honor of the Fourth of July, we found a few inspiring quotes that apply to today's world of content marketing from George Washington, Samuel Adams and more -- enjoy!
The Founding Fathers of the United States set a philosophical precedent so firmly that many subsequent leaders have strived to follow, proving that wisdom, unlike culture, doesn't change with each new generation.
Content marketing
is a profession driven by people and personality -- and it's not excluded from the benefits of this wisdom. In honor of the Fourth of July, we were curious what six of the Founding Fathers would have to say about the rise in content marketing. We think you can get a good idea of how they'd run their
content strategies
from their memorable and inspiring quotes below.
See also: Content Marketing Advice from Famous Sitcom Dads
1. People are Driven by Emotion -- Samuel Adams
"Mankind are governed more by their feelings than by reason.
Content marketing advice:
You want to make your customers feel rather than think. Your content should reach readers'
emotions
and desires, as people make decisions based on how they feel. If your reader feels something after consuming your content, he or she will be more compelled to share it.
See also: Creating Emotional Resonance Through Your Writing
2. Don't Abuse Language -- John Adams

"Abuse of words has been the great instrument of sophistry and chicanery, of party, faction, and division of society.
Content marketing advice:
Big words, jargon and unclear writing confuses readers rather than informing them. Use words people understand and you'll be able to unite them around you brand.
3. Keep Good Company -- George Washington
"Associate with men of good quality if you esteem your own reputation; for it is better to be alone than in bad company.
Content marketing advice:
Be careful with who you hire on your content team. Your brand's voice is fragile.
4. Write Valuable Content -- Benjamin Franklin
"Either write something worth reading or do something worth writing.
Content Marketing Advice:
If you want to produce excellent content, you have to do excellent things. Whether that's thorough research, extensive interviews or covering ambitious actions, make sure your content is always worth reading.
5. Your Content Should Influence Others -- John Hancock
"The greatest ability in business is to get along with others and to influence their actions.
Content marketing advice:
One goal of content marketing is to increase thought leadership. Not every blog post will bring in a big client, but it can grab the attention of leaders in your industry.
See also: Why You Should Ignore Vanity Metrics in Content Marketing
6. Don't Be Afraid to Be Bold -- Thomas Paine
"Lead, follow, or get out of the way.
Content marketing advice: Your content should be ambitious. Whether you're trying to blaze trails or synthesize best practices, you have to show a serious effort in order to succeed. If you don't, you are wasting your readers' time.
What advice from the Founding Fathers can you apply to content marketing?
To Read More Content Marketing Advice From Content Marketers, Click the Links Below:
How Content Helped LearnVest Become a Trusted Authority in Financial Advice
Ash Davies of Tablo: Empowering Writers to Self-Publish Through eBooks
Alexis Grant of Socialaxis: How to Grow an Audience Through Content Creation
Photos: Wikipedia: Humanitiesweb.org, http://www.mfa.org. Flickr: Cliff, Joye~, Biblioteca de la Facultad, AnimatedAtlas.