How to Build a Content Marketing Team [New E-book]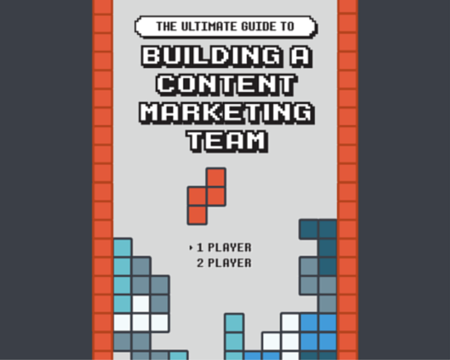 Build your content marketing team as strong as a stack of Tetris blocks.
Eighty-six percent of B2B marketers surveyed for
Content Marketing Institute's 2015 Benchmark report
are using content marketing, but only 47 percent of them have a dedicated team. It should come as no surprise that these marketers claim their biggest challenges are "producing engaging content," "producing content consistently," and "measuring content effectiveness." See the connection there? In order for content marketing to succeed, a business must have someone responsible for those efforts. 
Download the e-book now
The reality is that content marketing isn't something you can just work on "when you have time." It's something that requires a well-planned strategy, continuous maintenance, measurement and refinement. When content marketing is executed correctly, it can yield amazing results for your business - like building brand awareness, establishing trust with existing clients and attracting valuable customers organically.
People come to Scripted to purchase written content for different reasons, and because of this we've seen every way a content marketing team can be structured. From employing dozens of in-house writers and editors to having only one person running the show with a
content writing service
, a content marketing team's structure is truly unique to a business and its goals.
We put this e-book together to help companies better understand the importance of establishing a team and strategy before jumping straight into content creation. Our comprehensive guide includes advice on how to outline a content strategy to defining key roles to pitching your vision to the executive level. We also have exclusive interviews with content influencers like Joe Chernov, Jason Miller and Lee Odden (just to name a few!) about building content marketing teams.
After reading this e-book, you'll know how to build a team that works best for your business.
Questions, comments or thoughts about the e-book? Drop us a line in the comments section below. We hope you enjoy it!
Read More About Content Marketing:
Content Promotion Strategies: 4 Roads to Success
What Social Media Visits Bring to Your Content Marketing Strategy
Promoting Content on Social Media: How to Increase Your Shares [Interview]
Subscribe for the latest in Content Marketing & Freelance Writing!
While you're here, have you tried Scripted lately?
Used to be a member, but moved on? Heard of it, but never signed up? The current iteration of Scripted will amaze you! Streamline your content writing efforts and build your own team of high-quality writers. It's all you need for content writing. Try it free today and meet your next favorite writer or writers!