Best Payments Industry Blogs by Traffic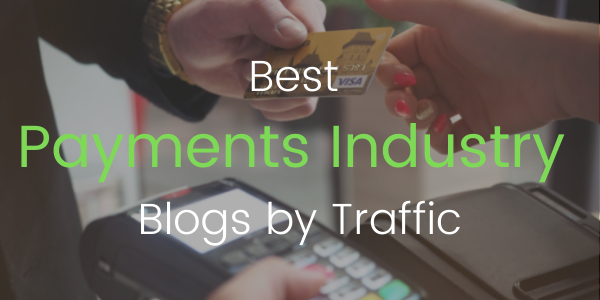 The payments industry is booming. Whether you're covering payment terminals for brick-and-mortar businesses or payment processing for eCommerce stores, apps, and websites, every single organization -- non-profit or for-profit -- needs some type of payment solution.
If you're operating a payments industry blog, though, it can still be tough to come up with insightful content that your audience actually cares to read. In fact, finding good topic ideas becomes even more of a struggle if you're in a niche sector of the payments industry, like payment processing for restaurants. So, let's take a look at some thought leaders in the industry so you can find inspiration.
What Is A Payments Industry Blog?
Payments industry blogs are almost always aimed at businesses that are in need of a payment processing service. That means you need to cover content that explains payment processing options that fit your audience's needs while also talking about other relevant payment-related news they might care about, potentially diving into reporting, revenue growth, or even basic tax law updates. The examples featured on this list cover a wide range of topics and can even give you some ideas if you're working in a smaller niche.
Ultimately, what powers the content of great blogs like the one to follow is a content strategy. So, if you have not yet taken the time to create a content strategy -- which means first specifying your brand's voice, laying out your customer personas, and creating a content calendar for all of the platforms that matter to your brand -- that's an important first step to take. Once you have done those things, you can turn to blogs like these for inspiration on specific themes and topics worth covering.
NRF Blog

National Retail Federation's blog is one of the most authoritative sources of information for the payments industry, but the content obviously branches out beyond just payment processing. Since the NRF is somewhere people turn to anytime they're thinking about business performance or a startup, the content ranges from payments to diversity, growth, and marketing.
The NRF covers a lot of topics important to both big and small businesses, like the concept of "connected commerce" and understanding the customer journey. Readers are professionals, mostly from SMBs, and they are bound to always find something of value on NRF.
Big Commerce

Big Commerce offers actionable insights to help business owners grow their company. They prominently feature their newsletter, but the blog itself has plenty of useful information all on its own. The majority of the content is focused on eCommerce, which directly connects to the payments industry. They cover enterprise eCommerce, eCommerce research, and offer information about how to sell online, marketed toward individual entrepreneurs, SMBs, and large-scale companies.
Since Big Commerce offers its own Open SaaS solution that allows anyone to create their own high-performance online store, it makes sense that BigCommerce stays focused on digital sales and payments. Still, with eCommerce taking over the business sector as a whole (with even brick-and-mortar stores starting to move online), it's a worthwhile source of info for both eCommerce-focused payments blogs and hybrid payments blogs.
Bob's Guide

Bob's Guide aims to connect buyers and sellers of financial technology, with categories covering trading/brokering, banking, payments, treasury, asset management, and insurance for companies. In the Payments category, specifically, you'll be met with a number of content pieces around "PayTech," like digital payment technology and contactless payments in-store. Bob's Guide also dives in-depth into payment trends and what's on the horizon, like real-time payments.
If you take a few minutes to read any article, you'll notice that they make a point to include direct quotes and input from industry thought leaders. Additionally, you'll find that some articles are locked and only available to Bob's Guide members, who pay a fee for full access to the blog. Putting content behind a "paywall" is quite a common practice in the payments industry since all of the content is marketed at businesses and offers information to help them collect and increase profits.
Payments - Cards & Mobile

Payments - Cards & Mobile offers industry intelligence, covering payments trends, cybersecurity, and international financial news. Articles are published daily, with a lot of emphasis on newly released studies. The brand ultimately works to break news before anyone else, or at least in a very timely manner, and that requires a great deal of legwork since they cover a global market.
They also touch on emerging financial trends and topics, like cryptocurrency. What's more, they dive into consumer trends and concerns, too, often covering topics like money laundering, identity theft, and consumer sentiment regarding a company's perceived financial security.
FinExtra

FinExtra has a dedicated payments category, but you're likely to find content inspiration far beyond it with the variety of business-centric content that FinExtra offers. They offer the latest in startup news, funding updates, and even changing financial and tax regulations. In other words, they cover just about everything their readers care about, with their readers primarily consisting of investors and executives at larger companies.
Like a lot of payments-related blogs, FinExtra has dedicated categories to the likes of security and identity theft, offering research and information on the same to help inform a company's cybersecurity strategies and preventative measures.
Payments Source
Payments Source is soon to merge with its sister publication, American Banker. Still, the brand is expected to continue offering great payments-related content, covering financial technology, investment, compliance, and more. The brand also has a dedicated "Women in Payments" section, showing off their D&I initiatives front and center.
In addition to the growing blog, which is filled with content resources, Payments Source also offers the PayDirt podcast, which brings together thought leaders and guest speakers who cover the latest trends, regulations, and news in the payments industry. This particular podcast is a great example of how a payments blog can branch out to new content mediums successfully.
Kount

Kount's blog talks about payment challenges, fraud prevention, customer success, chargebacks, and other topics that tie into payments and profit for businesses of all sizes. Kount itself is a company owned by Equifax, and they have incredible authority in the payments industry, thanks to that connection.
As such, they also have the budget to invest in high-quality content, which often features the case studies and personal stories of business owners and entrepreneurs. Kount also operates podcasts relating to cybersecurity, payments, and new trends in the business sector.
Payments Dive
Payments Dive breaks its content up into four
categories: Deep Dive, Opinion, Library, and Events. On the homepage, you'll see the latest top stories at a glance, which often feature the newest partnerships, announcements, and updates for Square, PayPal, and other popular payment processing platforms. Payments Dive also talks about payments technology, startups, and economic news.
In the Deep Dive section, you'll find content like, "US mulls CBDC options in international race to advance payment systems." These content pieces, in particular, offer real value for any payments blog hoping to offer detailed yet interesting and timely content for their reader base. The Deep Dives focus heavily on regulations and the current state of various concepts, technologies, and payment platforms.
Chargebacks911

While plenty of other payments blogs skim over things like fraud protection, Chargebacks911 focuses entirely on it. There's no doubt that chargebacks are a major issue for every business that excepts payments, especially online. This brand offers advice for protecting a business against fraud along with information on "thresholds" for entities like Visa and Mastercard.
Recaps of incidents by state along with tips for reducing fraudulent charges and chargebacks as a company all help Chargebacks911 reach their target audience while covering a very real and pressing issue in the business sector today.
DigitalCommerce360

While the website's overall design may look a bit cluttered, especially with a pop-out ad taking over the homepage feature, DigitalCommerce360 remains one of the most reputable and robust sources of content in the payments industry. As the name implies, the content is focused on eCommerce, with the header allowing you to choose between retail payments or B2B payments.
One of the most authoritative aspects of the brand is that they conduct their own research, giving them unique and original statistics to share with readers that they can't find anywhere else. DigitalCommerce360 has also done extensive coverage of the business impact of the pandemic and offered creative ways that businesses have and continue to overcome the related challenges and ever-lasting changes.
Grow Your Payments Industry Blog Using Great Content
Have these payments blogs offered you some inspiration for content you can create to increase organic traffic and keep readers happy? If so, the next thing on your mind might be how exactly you can produce more content to get the results you want. If you've got a content calendar that you're struggling to fill or you always find yourself falling behind on your publishing schedule, it might be time to outsource your content writing to a professional.
Scripted can help you find the best payments industry writer for your blog, whether you need a few posts a week or daily recaps, in-depth reviews, and engaging content for social media. Ready to get started? Browse our payments writers today!