Best Higher Education Blogs by Traffic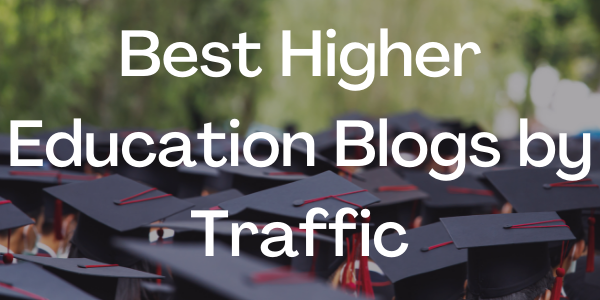 It isn't easy to get your website noticed - particularly when you're in higher education. You're competing with thousands of colleges and universities in the United States and around the world. But you can't give up on your site in favor of relying on traditional marketing efforts to bring students in. Today's mobile-centric lifestyle means if you aren't online, you don't exist. 
With enrollment rates dropping nationwide, you must use every possible tool to attract the attention of prospective students and their families. A thoughtful content strategy can mean the difference between being overlooked and making it onto the list of preferred schools.
These are the best higher education blogs by traffic - and the techniques that got them to the top. Integrating these methods into your content marketing makes it more likely that you'll reach your target audience and increase organic traffic to your site. 
According to SimilarWeb, three of the best higher education blogs by traffic come from three of the best schools in the country. They attract visitors because their brands are already valuable. But this doesn't mean you're out of luck when it comes to getting eyes on your page. Using some of the same best practices the masters use can boost your blog to the top of the search results list, too.
Massachusetts Institute of Technology: MIT.edu
Total Monthly Visits - 53.72 million

Pages Per Visit - 8.25

Bounce Rate - 39.88%
The Boston-based Massachusetts Institute of Technology (MIT) has been training the world's top scientists, engineers, and mathematicians since 1861. Its place among elite technical schools gives it an advantage over the competition. The school admits just 1,427 of the 21,312 applicants each year. 
Top Content
MIT has multiple blogs that cover a range of content. There are blogs for applicants, undergraduate students, and graduates. Posts offer insight into faculty and staff, as well as in-depth program information, news, first-person accounts of campus life, and upcoming events. Some recent posts include: 
Why It Works 
MIT's blogs are compelling because they include deeply personal perspectives from people who are living and working at MIT every day. They tell a story with such skill that prospective students can picture themselves inside the writer's world — at MIT.
It's worth noting that the content writing is top-notch. Every sentence is beautifully crafted, and there are no distracting typos. That keeps the reader engaged in the post — and interested in clicking on the next one in the series. 
Total Monthly Visits - 55.17 million

Pages Per Visit - 2.72

Bounce Rate - 66.83%
It's safe to say that when Harvard bloggers post, people take notice. The school's brand carries weight in every corner of the world — and it has since it was founded in 1636. 
Harvard doesn't need a strong digital presence to pique prospective students' interest, but it makes its website and blog a priority anyway. Strong content writing that covers topics of critical importance to current and prospective students, alumni, and families brings visitors in and keeps them engaged. 
Top Content
Though Harvard ensures they publish a diverse group of voices on the school's family of websites, the most popular Harvard-branded blog is its Life at Harvard: Student Stories collection. 
These are recent posts that attracted interest: 
Why It Works 
Strong, honest content writing is the primary reason Harvard's blog is so popular. The narratives offer unique perspectives into day-to-day living on-campus, but that's not the first thing visitors notice. It's the images that capture attention. They carefully select a colorful mix of people, places, and events to complement each post, so they grab visitors' attention and draw them in. 
The City University of New York - CUNY.edu
Total Monthly Visits - 26.71 million

Pages Per Visit - 8.27

Bounce Rate - 23.26%
The City University of New York is a massive secondary education institution. Founded in 1847, it has a whopping 25 separate colleges under the larger CUNY umbrella. Total enrollment is 275,000, and the University awards 55,000 degrees every year. Needless to say, there are multiple blogs serving this massive, exceptionally diverse population. 
Top Content 
The Office of the President publishes some of the most interesting content. It covers everything from world events to volunteer opportunities. Readers keep coming back because the content is current and extremely relevant - not to mention, of course, written well. 
These are some of the more recent posts that have brought visitors to the site: 
Why It Works 
The most important thing this blog has going for it is the timeliness of each post. The Office of the President doesn't let any notable event go by without sharing some thoughts. Staying up-to-date is important for attracting visitors and keeping them on the page. When the most recent post is months — or years — old, there is no incentive to keep reading. 
More Quality Higher Education Blogs 
The following blogs might not get the sort of traffic that MIT and Harvard enjoy, but their structure and content offer you a look at what works in the higher education space:
Look through these blogs to get your creative juices flowing. Notice what works — and what doesn't — then incorporate what you've learned into your own content marketing strategy. 
Benefits of Blogging
If you aren't yet convinced that there are distinct advantages to blogging on your higher education site, consider these statistics: 
In short, blogs are an important part of the overall internet experience, and your target audience expects you to be on board. This is an opportunity to get personal, build relationships, and make connections in a manner that is far less formal than you use on your landing pages. 
Getting Started
Adding a higher education blog isn't difficult from a logistics perspective. Your website administrator can quickly give you a place to house your posts. The complicated part is choosing what to write about, how often, and how to structure your post to reach the largest possible audience. These are just a few of the tips and tricks that experienced blog writers use to increase a post's impact: 
Attention-Grabbing Title

- Anything that stops readers from simply scrolling by works, as evidenced by the above-mentioned posts. 

Title Optimized for Top Search Terms

- "Listicles" or titles that promise easy-to-read lists are popular, as are posts with titles that include the words "How To".  

Length Matters

- Posts that come in between 1,700 and 2,000 words tend to rank better than shorter or longer pieces. Note that such a post takes an average of three to four hours to compose for an experienced writer. 

Images

- Your blog posts will attract

94% more views

if you include a relevant image. 

Video

- Your prospective students are increasingly looking for informative video content. Consider campus tours, "a day in the life", and other topics that showcase your community. 

Topics

- Blogging is intended to be a bit more personal. Don't be afraid to share individual perspectives. 

Style

- Ensure posts have a consistent look and feel, no matter who is contributing to your blog. Create a style guide that covers basics like format, punctuation, and voice. 
Finally, keep your content up-to-date with regular posts. Don't worry - you don't have to write them all yourself. Invite guest bloggers in, and open up the forum to current students, faculty, and administrators. 
Why Scripted? 
There is one theme that brings all of these tips, tricks, and best practices together: high-quality content writing. That's where Scripted comes in. Scripted has some of the best freelance blog writers in the business - writers experienced in search engine optimization (SEO) techniques that will get your page noticed. Visit Scripted to browse our highly vetted higher education writers. 

---
Published by
Scripted Writers
on Thursday, June 3, 2021
in
Blogs
,
Higher Education
,
Art Institutes
,
Baylor College Of Medicine
,
Bentley University
,
Bryant & Stratton College
,
City University Of New York
,
Concorde
,
Goucher College
,
Harvard
,
Mit
,
Stratford University
,
Strayer University
,
University Of Denver
,
University Of Vermont
.