10 Best Payments Industry Blogs for Inspiration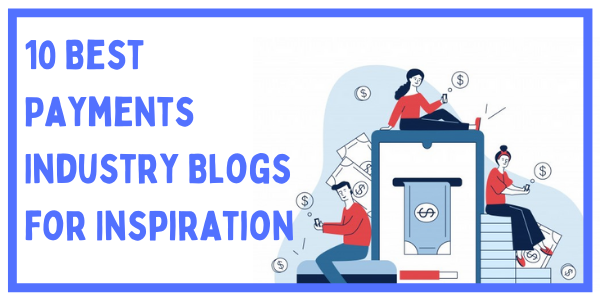 The payment industry remains one of the most vital in the modern world, as more businesses and customers seek to simplify transactions across remote channels. One major shift comes from the domain of Fintech - through the provision of increasingly intuitive payment processors for mobile apps.
Specialized writers should familiarize themselves with the top 10 payments blogs to keep up with the latest industry changes and customer trends to provide the most effective content every time. 
Finextra
London-based media company Finextra is a one-stop information hub for all fintech matters. Finextra engages over 300,000 industry participants monthly, providing consistent market insights in clear detail. The site contains a section dedicated to the latest worldwide payments news, spanning a broad range of subjects ranging from the launch of mobile payments apps to bank announcements. 
Finextra's articles usually feature a bold intro paragraph that summarizes the main points of the write-up. It is an effective strategy to inform readers of the immediate context, which encourages them to read the rest of the content. 
TechCrunch 
Founded in 2005, TechCrunch has become a popular site for emerging market insights presented through highly optimized blogs. Regular contributors to the blog include tech experts such as Mike Butcher and Romain Dillet, ever ready to offer readers an exclusive dose of payments-related knowledge. 
Some good TechCrunch examples to emulate include:
-Pomelo raises $9M to build a payments infrastructure for LatAm fintechs
-Stripe acquires TaxJar to add cloud-based, automated sales tax tools into its payments platform
-Clubhouse rolls out payments to over 60K creators following initial test
PaymentEye 
PaymentEye is a free-to-access platform that gathers the latest roundup of insights from payments professionals, drawing over 16,000 industry experts. Freelance writers in the payments sphere can learn a great deal from PaymentEye's extensive collection of blogs covering everything payments-related. PaymentEye Content includes soundbites from interviews with leading names in the payments industry and reviews of payment infrastructures. 
Additionally, PaymentEye provides further reading in selected articles, tagging whitepapers that offer in-depth information on related topics. 
Some examples of PaymentEye's supplemented blogs include:
-Bank of Canada: Digital currencies raise stability questions
-Diversions on the ISO 20022 journey
The Paypers 

The Paypers offers more than a pun-y wordplay -- the blog site is jam-packed with frequently uploaded information on payment processes, commerce, and related subject matter. Article writers at The Paypers keep readers engaged by providing a diverse range of content such as professional interviews, expert opinions, and news reports. 
Payments Dive
Practices and regulations in the payments industry change at a rapid pace. A confident payments writer needs to accrue reliable information from a trusted source to create winning content. One leading example of such a source comes from Payments Dive, which collates the deepest insights into the payments industry through quality journalism. 
The news site boasts one of the broadest outreach in the field -- reaching over eleven million professionals in their database.  
Payments Dive takes on a conversational approach through highly accessible content delivered through listicles and titles that pose stimulating questions -- a strategy that works well in the dynamic payments industry. 
Paylosophy 

As the site's name might suggest, Paylosophy offers a comprehensive library of resources for the "wisdom of payments processing." The site contains the latest scoop related to the payments market, focusing on practical advice that companies may apply to expedite and optimize their payment infrastructure. 
Check out these insightful posts for a taste of Paylosophy's unique blog style:
The concise and actionable content resembles pages from a payments handbook to provide readers with greater control over their processes. 
Payments Cards & Mobile
Proficient payments writers tap on a wide range of resources to determine accurate and updated insights. Payments Cards & Mobile offers over 15 years of accrued data gathered from across 43 markets that will level up a writer's library of references. 
The site features articles involving various facets of the payments scene, including mobile apps, QR codes, and changes in financial policies -- certain to provide something informative for payments writers from all backgrounds.
Examples of top features from Payments Cards & Mobile include:
PYMNTS.com
According to PMNTS.com, 91% of the top payments companies visit the site regularly. While the statement might be a marketing effort, there are many reasons to believe it. A quick visit to the site treats readers to a formidable library of blogs, podcasts, and payments data that will improve the arsenal of a payments writer. 
Following closely with the rise of dynamic content, PMNTS.com has coupled in-depth payments blogs with podcasts and videos for added impact. An example of the method can be found here: Consumers Rebalance Credit-Debit Preference As Economy Reopens.
Bob's Guide 
Tech expert Bob Browing founded Bob's Guide in 1995 to seamlessly connect fintech solution providers with their target professionals/buyers. More than two decades later, the site has become a celebrated gathering ground for research resources that include payments matters. 
Bob's Guide garners over 70,000 users a month through well-structured blogs that offer analytical insights and an expansive array of rich resources such as job listings and professional virtual events. Site content is exclusively available to members (sign-up is free). 
PaymentsSource
PaymentsSource provides a constant stream of highly insightful blogs, occasionally authored by Fintech CEOs. As such, readers can keep up to speed with real-time updates on circulated trends and conversations in the payments industry. PaymentsSource focuses on digital payments news to help readers make informed decisions according to the shifting climate.  
Payments writers can learn a few tools of the trade from the site's illuminating pieces:
Get Top Content From Scripted Writers!
Whether you're a processor, payments provider, or represent the leading financial institutions, Scripted is the place to be for quality payments writers. Our writers will eliminate the guesswork and increase organic traffic to your sites through consistent premium content. Begin your 30-day trial with Scripted today!

---
Published by
Carolyn Heard
on Friday, May 21, 2021
in
Blogs
,
Payments
,
Bob's Guide
,
Finextra
,
Paylosophy
,
Paymenteye
,
Payments Cards & Mobile
,
Paymentsdive
,
Payments Source
,
Pymnts.Com
,
Techcrunch
,
They Paypers
.